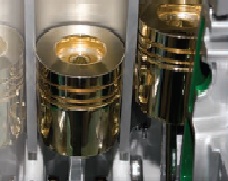 The need for clean fuel supply that is free of impurities is a well-established necessity for internal combustion engines. Almost certainly, fuel that ends-up in the combustion chamber is contaminated with dirt particles such as dust, liquid droplets, pollen and rust from the storage tank of the vehicle. Even when refuelling at the gas station, a number of impurities end up in the fuel tank of the vehicle depending on the cleanliness of the purchased fuel and the condition of the station's storage tanks.

Impurities in the fuel line can clog critical parts of the engine, such as the injectors, the carburettor and the fuel pump. Particularly in modern systems such as common rail and pump injection, impurities in the fuel may also cause serious damage due to corrosion, resulting in malfunctioning of the whole system. As a result, wears in the system can lead to considerable increase in fuel consumption and impaired engine performance. It is therefore essential that for reliable protection and avoidance of costly repairs all engines are equipped with a well performing fuel filter.
Comprehensive Fuel Filter Range
ALCO has established itself by providing fuel filters of exceptional quality. With ALCO filters you can be rest-assured that your engine is well protected against premature wear, and that your investment is protected for years to come.
ALCO manufactures and supplies an extensive range of more than 500 fuel filters with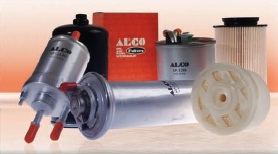 many new filters added each year, that fit passenger cars, vans, trucks and several industrial applications (such as engines for generators, compressors, etc). Our line includes many of the popular categories, such as Spin-on filters (standard version, water drain plug), Replacement metal Cartridges, Ecological metal-free elements, inline filters (metal, plastic), and many others.
High Spec Filter Media And Components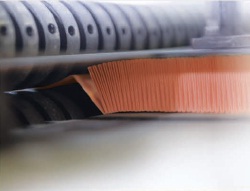 ALCO utilizes only top quality raw materials and long lasting components that are established in the market for their durability, reliability and excellent filtering properties. Our fuel filters are carefully fabricated using the latest technological developments in the field, thus ensuring the quality of the finished product that we provide to our customers.

ALCO fuel filters have higher filtering efficiencies compared to most conventional fuel filters sold in the market that typically utilize simple single-stage treated paper media for filtration. Our filters go beyond such minimum requirements by comprising, as a standard, of top-grade pleated filter media that are perfectly matched to specific applications with regard to particle and water separation and service life.

Recent developments in the automotive industry in regards to sophisticated gasoline and diesel injection systems call for higher filtration efficiencies and extended service life. To satisfy these demands, ALCO provides the most suitable solutions using a multitude of media such as cellulose carrier medium with a melt-blown layer, and multilayer / multigrade media. These have proved to have excellent particle and water retention abilities even for very fine particles giving supreme protection to the engine.

Advance Manufacturing Technology

ALCO employees the latest machinery technological advancement. The combination of the input from our skilled staff and the pinpoint precision of our automated production equipment reflect the high quality craftsmanship we put in the finished product.

Our filter media always receive the necessary pre and post treatment and allowed to cure sufficiently so that their surface absorption capabilities are enhanced. Uniform pleating and thermal conditioning of certain media improve capture efficiencies and help the media to maintain their structural integrity even during overloading with minimal rupture risks. Furthermore, all associated interior and exterior components, such as housings, end caps, drains, sealing parts, and others are carefully crafted to ensure that the filtering media perform as intended and that their performance is not compromised during engine operation.

All filter media and associated components are processed and assembled in-house which gives us more control over the quality of the finished product. Furthermore, strict quality control procedures that apply to every step of the manufacturing process together with laboratory testing ensure a consistent quality for all filters that leave our facility.